Inside the downloadable software package you'll find the firmware updates for the whole range of EclerNet Manager devices: DN44BOB, DUO-NET, MIMO88, MIMO88SG, MIMO CONFERENCE, MIMO1212SG, MPAGE16, NPA, NXA, NZA, WPmSCREEN y WPTOUCH.
EclerNet Software & Firmwares Package (v4_05r1 - August 2018)
What's new with EclerNet Manager?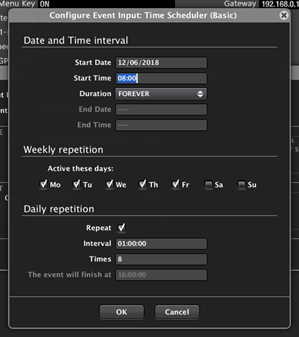 New "BASIC" Time Scheduler Event for the DUO-NET PLAYER:
it shows a simpler and easily-programmable configuration interface than the standard Scheduled event and identical to the one installed in the ePLAYER1.
---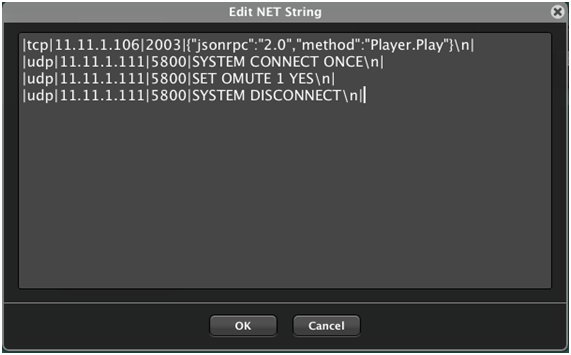 New "NET String" button type in UCP panels: allows to create a button in the UCP panels to send a single command text line, or even a full list (batch) of command text lines, each of them, triggering a UDP or TCP command to the external devices connected to the same local network (LAN).
Check the manual's examples of this commands by clicking here

Get an example of an EclerNet Manager TCP/UDP Project by clicking here
---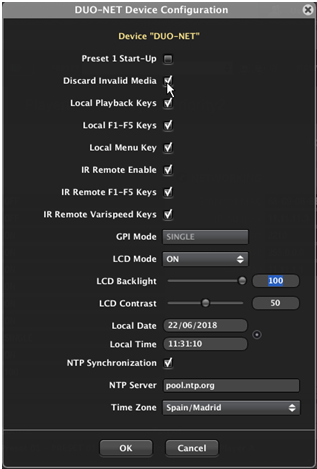 New "Discard Invalid Media" parameter for the DUO-NET PLAYER:
assigning the value of this new parameter to ON (being in OFF by default), DUO-NET PLAYER configures itself exactly as it was in previous versions, meaning it will discard the media which generates errors. A very helpful parameter when dealing with Internet streams that sometimes fail, but don't have to be discarded for future reading attempts.
---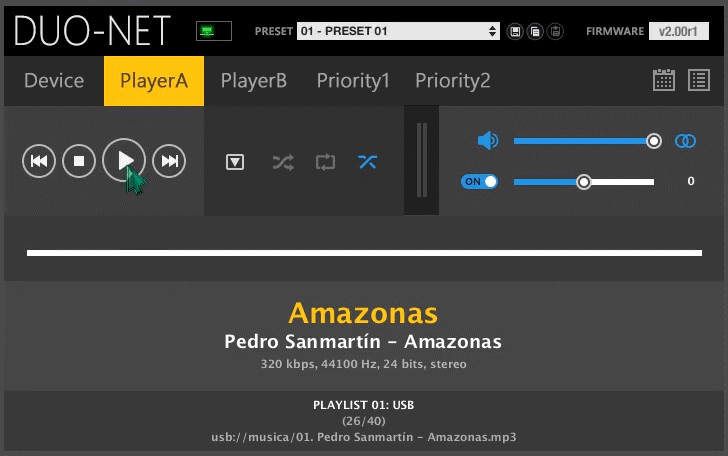 Fast Forward and Rewind functions in DUO-NET PLAYER:
as well as a direct position assignment by clicking or scrolling the playback bar in the EclerNet Manager DUO-NET window view.
---

Independent volume assignment for the playback and for the prioprity modules in DUO-NET PLAYER:
in this context, +6dB extra gain for the volume control knobs in DUO-NET PLAYER's priority modules as well.
---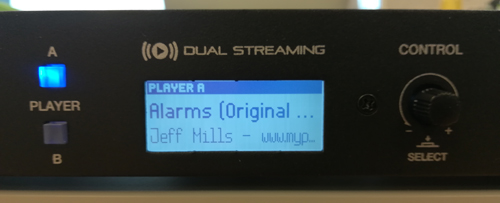 New screen information display format in DUO-NET PLAYER's front panel:
It shows the most important tags scaled in bigger size. It can be accessed through the typical front panel button combination PLAYER A/B.
---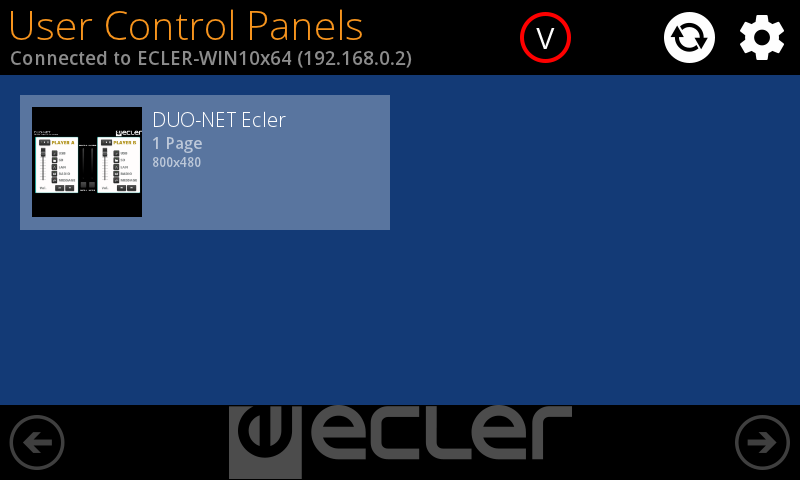 "V" icon (Version), warning about incompatible versions in a WPmSCREEN hardware unit.
It means that the firmware version carried by the WPmSCREEN unit contains an EclerNet Manager embedded app version that is not compatible with one or more firmware versions of the hardware units included in the ENM project in use. In these cases, the solution is simple: upgrade every firmware version of the hardware units, WPmSCREEN included, to the latest versions available
---
We are constantly working to keep improving and updating EclerNet Manager platform, that's why we invite you to consult the latest version of EclerNet Manager user manual to get more information about it.